iPhone are one of the desirable gadgets demanded by Gen-Y , it gives immense pleasure to our youth regarding to their reputation in their circle. It sets as a benchmark of class and standard. So , now if you having these phones then you must eager to know about the games of iOS, because iPhone games are bit different from androids in download/ play and manage.
There is no doubt that iPhone provides us best platform for gaming. The new launched versions of iPhone like iPhone 6 and iPhone 7 are specially designed for games with big screen and high quality videos. We can download iPhone games only from Apple Store app not from Google or its play store. Here are some interesting, adventurous, latest and full of action or puzzle games for iPhone users. Mostly iPhone games are paid but lots of free games are also available here. So we listed here some free or some paid latest iPhone games.
1). BEJEWELED BLITZ
This game is the substitute of android game candy crush , which is passionately addictive game in androids and gain same popularity here in the market of iPhone with other name. Here candies are replaced with jewels , we have to pair or grouped same jewels in order to get score and perks and make a blast to complete level. Graphics of this game are superb, it attracts kids as well as adults. This is the best option for releasing stress in free time. Once if you start playing this definitely you will become addict of this game.
---
2). BLOCKY HIGHWAY
Blocky highway , this game reminds us for the best old one memory of Road-Rash, where we have to drive motor-cycle on a road by crossing hurdles in minimum time to get highest rank. Same is here ! here we have to drive a truck on highway which have various blocks as suggest by name of game. Over the ride you have to face various challenges and be aware of collisions from other cars and trucks on the road.Challenges can be like blocks in the path, traffic, unusual interference of anonymous players, who are trying to distract you and create obstacles. Graphics are so much attractive and the best part is that , this game is available at free of cost.
---
3). DOES NOT COMMUTE
This is also a driving oriented game , in this game you have to drive car in a given time period or a given path.The car will be running automatically you only need to guide or direct path to the car by tapping on screen i.e. left or right. When you complete first level then in second level you have to drive on same path but in less time compare to first level so obviously your speed will enhanced and hurdles also increased. This game is available at free of cost but you can not save your car check points until you purchase premium version of the game.
---
4). DUNKERS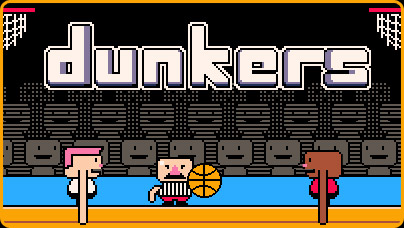 This game is based on real world game basket ball. Some rules are different but basically it is basketball game.Screen shows two buttons as they allows you to move your ball left or right towards your goal. When you spend time with this game slowly you will get master in that game. You have to pay £1.49 to fully enjoying the game.
---
5). HILL CLIMB RACING
Hill climb racing is a best time filler game for both kids as well as adults. This is like a normally racing game , in this race you have a car to drive on the hill to win. In the way you get many chances to gain coins and fuel. You need to maintain your speed because you have to manage your fuel until your ride finished and you won. You have brakes and accelerator as control , you should use this carefully until you get mastering in this. Gained coins will hep you to upgrade your vehicle and getting new vehicle also. You can also purchase these coins by in-app purchase, but if you played well then you can possibly enjoy this game totally free of cost perfectly.
---
6). BADLAND
This game cost $4. This game won various awards like Apple incorporation award –>I-Pad game of the year. It has amazing graphics with multiplayer feature, It allows max 4 players to play at a time. Game-play follows 3-4 days tasks, and days are divided into phases like Dawn, Noon, dusk, Night. The graphics of each phase are different and beautiful. Theme of the game is based on animals or forest environment.
---
7). PANGOLIN
This is a physics based game , there is a cute small physical structure which you have to lift upto a level towards the goal. You will have to do task in few chances as possible. Strike or shot concepts are basically influenced from golf strikes. Although this is free but some points it required purchase to play further.
---
8). FRAMED
Framed is just like the basic puzzle games. In this you have to framed the blocks of puzzle in a desired manner to complete a story. This game is best time filler game for puzzle lovers and obviously you should use some logic also to understand and complete story based on puzzle blocks so this is also a mind game.
Hope you liked this post, if yes then support us by sharing this post with your friends!